Game-making is one of my childhood dreams that still lasts. I also love illustration. I currently have two game projects and an illustrated book.
Varkana
My first Interactive Fiction, which I made with Inform 7.
Varkana is the name of a region in a world with a timeless, mildy fantasy/sci-fi setting (some technological and magical elements are present at this moment, but not prevalent), with the city-state of Arg Varkana as its major outpost of civilization. There are several Persian and Mesopotamian inspired elements in there, some of which might sound familiar to those who are acquaintanced with those cultures.
We start the game as Farahnaaz, a bookcrafter and a library employee in Arg Varkana, currently enjoying her summer holidays when the town is lively with celebrations. Her hometown is to be visited by a team of ambassadors from Ashtarta, a distant, fabled land with a more advanced technology and a recently-reestablished regime.
All starts peacefully, but a neglection to do a simple task she was given eventually turns Farahnaaz's calm day into a troublesome one – to another one's luck and fortune.
***
Even though I hadn't originally intended to join a competition, I applied for IF Comp 2007 (the 13th annual IF competition). Varkana got the 6th place out of 27. It also won the Best Setting award in XYZZY awards 2007.
I started this game with nearly no knowledge of the [modern] IF culture. I had planned to make a long game involving extensive adventures and travels around the world, so I began patiently while learning to use Inform 7 at the same time (which is quite beginner-friendly). But months later I realized the game was getting too large to handle, specially due to problems with my conversation system and disambiguation which despite all efforts didn't quite get solved. So I decided to halt the story at a certain point, and perhaps continue it in a sequel in future.
For more info and reviews you can consult the Varkana IFWiki page.
It was once played during an ifMUD (interactive fiction multi-user dungeon) event on February 2010. The transcription can be found here.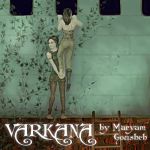 Download: Varkana.zip
You'll need an interpreter to run it. I recommend Gargoyle.
I plan to release a new version. These days I'm a either too busy or too tired, but I'll see to it as soon as possible.
Kolimaire
It's a simple Sierra-style avdenture game I made in January 2007, using AGS.
Its only purpose was training; testing AGS and learning how to work with it. I used some images that I had created months before as background, which inspired the gloomy atmosphere of the game.
The bitterness you tried so hard to dump in the back of your mind when awake has grown too wide and deep,
and now it's pulling you in, demanding to be confronted. You wake up to find you're trapped in a melancholic nightmare. You want to (and have to) heal and restore it.
Perhaps there are still small remnants of faith and hope to be found, if you don't give in to the depression and search hard…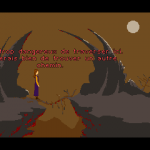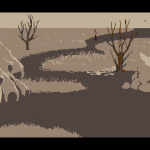 Download: kolimaire.zip
(It's available in both French and English. To switch the language run winsetup.exe)
The Rolling Pumpkin
A visual novel made with Ren'Py. It's an interactive story based on a Persian folktale.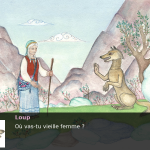 Jacquelyne à la lanterne
It's an illustrated book in French. Paintings are done with China ink. The story is a twisted version of The Rolling Pumpkin. You can download the full book in pdf format.
Download: jacquelyne.pdf
Save
Save
Save
Save
Save